Services Performed at: Lennon Rd-Flint and Novi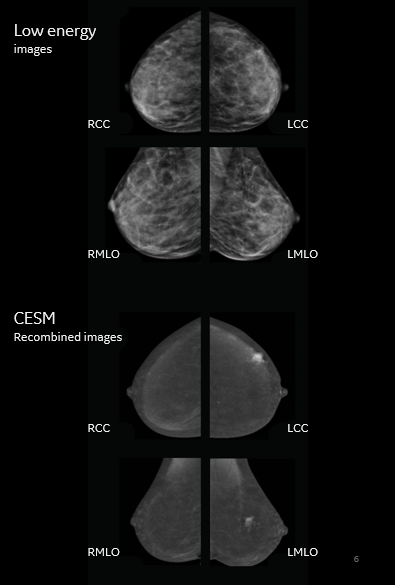 What is CESM and When is it Used?
What:
CESM is a 2D mammogram (see our 3D UltimateMamm®) performed if you have had an inconclusive mammogram or an abnormal ultrasound. It is a diagnostic procedure.
When:
Our radiologist will determine if the exam is recommended. CESM is especially useful if you are at high risk for breast cancer and/or have dense breast tissue.
How It Works
CESM uses an injection of iodinated contrast (similar to a CT exam) to highlight areas with suspicious lesions and areas of unusual blood flow using subtracted imaging.
It combines four mammography views – two low-energy and two re-combined in the same position to provide clearer visualization. The resulting image shows only where contrast has pooled, indicating areas that are potentially cancerous.
Other Benefits
The exam takes less than seven minutes.
It reduces the chances of false-positive exam results.
The General Electric "Senographe Pristina" machineprovides greater comfort and has a reduced noise level.
Delivers personalized and optimized radiation dose based on breast density. (See our Wisely Image pledge).