What is osteoporosis?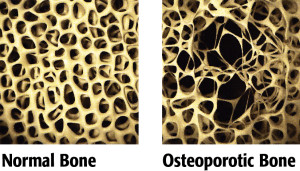 Osteoporosis, meaning "porous bone", is a gradual disease that weakens bones, often leading to vertebral compression fractures (VCFs). Such fractures can cause chronic pain, loss of height, dowager's hump, and more — leading to a downward spiral in quality of life.
Patients with osteoporosis are prone to compression fractures in the spine bones, or vertebrae. The bone cracks under pressure, causing it to collapse in height. More than 700,000 such fractures occur every year in the United States.
The fracture angles the spine forward and produces a hunchbacked appearance, called kyphosis. Patients with this condition are subject to debilitating pain, disturbed sleep, decreased lung and intestinal function, and difficulty completing routine activities.
What is kyphoplasty?
Standard therapy for VCFs includes bed rest, pain medication, muscle relaxants, external back braces, and physical therapy. If there is little to no pain relief, your doctor may recommend vertebral augmentation, also known as kyphoplasty. This minimally invasive procedure is performed on an outpatient basis and usually requires local anesthetic and mild sedation, eliminating many of the complications that result from open surgery.
For many patients, kyphoplasty is covered by Medicare and most private insurers. Kyphoplasty allows you to resume many of the physical activities that you love. Best of all, it alleviates pain in approximately 90 percent of patients.
What you can expect with RMI vertebral augmentation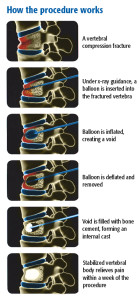 Before your procedure your doctor will give you a physical exam and imaging tests to determine the location of fractured vertebrae, when the fractures happened, and if kyphoplasty is right for you.
During your procedure, kyphoplasty is performed under sedation with local anesthetic. Using x-ray guidance, a needle is inserted to the fractured vertebra through a small incision. When the needle is correctly aligned, specially formulated bone cement is injected into the fractured vertebra, creating an internal cast that stabilizes the bone. The needle is then removed and the incision is covered with a steri-strip.
After the procedure, you'll lie on your back for a short time while the cement hardens. Your vital signs will be monitored. Typically, you'll be able to go home within 1-2 hours after treatment.
Pain reduction
Almost all RMI patients undergoing kyphoplasty experience a 90% reduction in pain within 24-48 hours, and an increased ability to perform daily activities afterwards. Potential benefits of vertebral augmentation
Rapid and sustained pain relief
Increased mobility
Improved quality of life
Low complication rate